OUR BRAND
The District 45 brand lies in the quality of education we provide to students. We strive to create a culture within our schools that fulfills our mission of collaborating to create high levels of learning for all.
Our brand is the reputation D45 has for having incredible teachers who are preparing students to be navigators of learning. Our mascots, our logo, our fonts, our colors, those only help to reinforce the district's brand.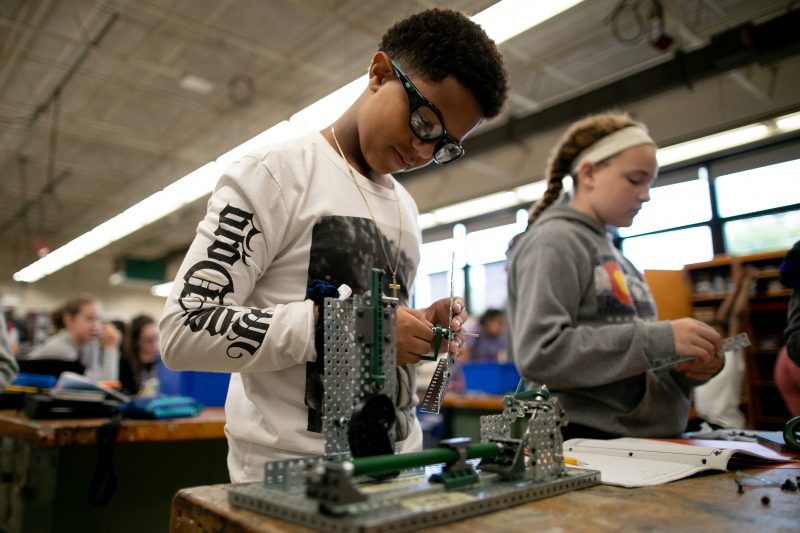 PHOTOS SHARE THE WHOLE STORY
We have students participating in incredible learning experiences and amazing teachers who shape those experiences. Photos depict our brand. Spontaneous, fun, and vibrant images should be used in favor of photos that appear staged.
If you'd like to access the D45 Photo Library, please connect with the district's communications department at contact@d45.org.
Show the district looking its best
Use large photos often in designs
BACKGROUND
PHOTOS
LOOK GREAT
Click on the thumbnails below to view each identity package and the components that make it up.
The District's identity can be seen in the careful use of typography. District 45 uses Google Drive as a primary tool within the organization. Of paramount importance was finding typefaces that work well within the Google ecosystem.
BARLOW SEMI CONDENSED
A B C D E F G H I J K L M N O P Q R S T U V W X Y Z
a b c d e f g h i j k l m n o p q r s t u v w x y z
0 1 2 3 4 5 6 7 8 9
Barlow Semi Condensed is a Google typeface should that is best used as headlines and call outs. It looks great when used in all caps and in medium or bold.
ROBOTO
A B C D E F G H I J K L M N O P Q R S T U V W X Y Z
a b c d e f g h i j k l m n o p q r s t u v w x y z
0 1 2 3 4 5 6 7 8 9
Roboto is a Google typeface should be used as the default text. It contains a variety of weights and all needed special characters.